Introduction
One of the great things about Csound is that the format of the orchestra and score files are pure text. The composer can use any editor he or she pleases, without being tied to a specific platform. There are a few text editors specialized in working with Csound such as the Csound Editor [1]. In this paper we will see how to use Emacs as a Csound development environment.
Emacs is a very powerful all-purpose editor. With it one can edit and manage files, read news, mail, and RSS feeds, and even play Tetris. An introduction to Emacs is out of the scope of this paper, but there is plenty of documentation available on-line and also with Emacs itself. The best place to start is the "Guided Tour of Emacs" [2]. The Emacs Tutorial is available inside Emacs, under the Help menu. The "GNU Emacs Manual" can be read on-line [3] or inside Emacs under the Help menu. Finally, the Emacs Wiki is a nice place to find things related to Emacs [4].
Csound-x is an Emacs library (a mode, in Emacs parlance) that allows one to compose music for Csound without leaving Emacs. With it one can run Csound (real time or not), play files, format orchestras and scores, edit and visualize functions, calculate and edit columns in scores in the same way as in spreadsheets, access documentation for an opcode with a keystroke, and so on.
I. Installing and Configuring Csound-x
Csound-x does not come with Emacs, so we need to download and install it. The latest version of Csound-x can be found at the address listed below [5]. We must download and unzip it to a local folder and tell Emacs where to find Csound-x. Emacs stores the configuration for each user in the file .emacs in the home directory. Put the following lines in your .emacs, adjusting the path where Csound-x was unzipped:

(add-to-list 'load-path "~/stef-elisp")
(require 'stef-elisp)

To access the Csound documentation from Emacs, we will need to download the Csound Manual in HTML format and unzip it. In this paper I have downloaded it from the address listed below [6] and unzipped it in ~/csound/html.
Next, we want to customize Csound-x. We can customize it by editing .emacs directly or use the emacs custom interface. To use the custom interface type M-x customize-group RET csound-x RET. Figure 1 shows the items available for customization. The option "Csound X Applications Paths'' defines the value for Csound environment variables such as SADIR and INCDIR.
Figure 1.The Emacs Custom Interface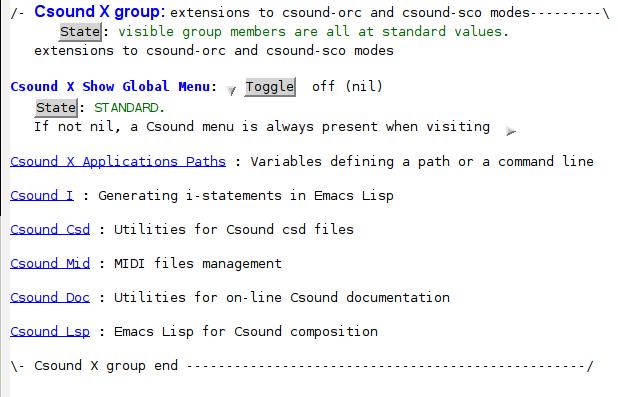 If we click in "Csound X Applications Paths'' we should see a window similar to the one in Figure 2. Edit the values to mach your environment and when ready save the options by typing C-x C-c. Custom will insert automatically the appropriate code in .emacs for you. Besides the common Csound environment variables, we can define a program to play and open wavfiles and can also define the directory where we unzipped the HTML files for the Csound Manual.
Figure 2.Customizing Environment Variables